---
ADS ZIPPER Nylon No.5 Black Colour Zip with Autolock Thumb Puller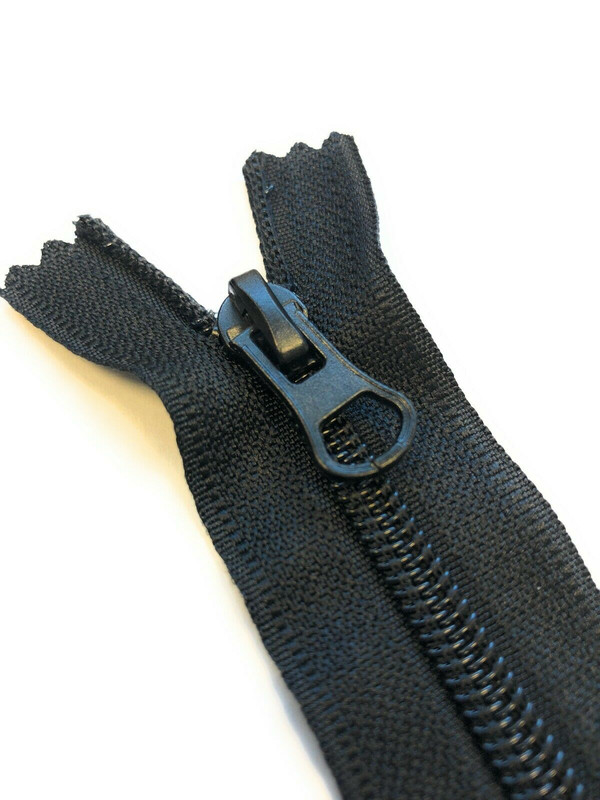 Features and further details
Black Nylon No.5 Zip with High Quality Coil Autolock Thumb Puller: Open or Closed End  Open & Closed End Zips for different purposes.

VERSATILE: for sewing and replacement zipper on dresses, clothes, jackets, clothing, bags, luggage, cushions and more & SUITABLE: for sewers, designers, embroiders, and crafters of all levels of experience.

Easy to Open: The zippers zip and unzip rather smoothly, and do not snag or stop.

Our products are individually tailored to uphold our performance and quality standards, delivering a consistently.

AUTOLOCK THUMB PULLER: Strong puller and zip for use with fabrics of different types.

Black Coloured Open and Closed End Nylon No.5 Zips with Coil Autolock Thumb Puller. This range of nylon open & closed ended zips comes in a really useful range of lengths to suit whatever project you have on. They are strong and perfect to use on suitable materials.
Contact us
We can be contacted at any time through eBay messages if you have any questions, comments or product requests. We will respond to you within 24 hours and do our best to help you out! We encourage our customers to contact us with any questions or concerns! We'd like to be sure you are completely satisfied with your purchase.
FEEDBACKS and LATE DELIVERY: If unfortunately parcels couldn't reach you on time, we kindly ask you to contact us and we'll offer the best solutions to you. We always try to maximise customer satisfaction and we would do everything to deliver your items on time, including dispatching new parcels with first class service. Negative feedbacks won't help, please kindly contact us to solve problems. From items wrapping and packing, we check everything by ourselves to ensure quality and dispatchment safety before shipping.
Payment

You can make your payment through ebay.

Shipping

We aim to dispatch all the orders placed before 3:00 pm GMT on the same working day

Disclaimer

ADS Zipper is committed to provide the best quality zips to our customers. Please let us know if you need any assistance and we will be with you shortly!

.